Tanja's Creative Cuisine
Join your host Tanja, a passionate foodie and a food blogger, on this finger-licking journey through Dalmatian cuisine.
Location: Split
Food theme: Modern Twist on Classics
Duration: Half day
Period: All year round
Children friendly: Yes
Max number of guests: 8
INCLUDES: Visit to Market, Cooking Class, Lunch with Wine
Chef Tanja!
Originally from Karlovac, a city in northern part of Croatia, Tanja moved down to the coast for her studies, but ended up founding a family by the sea. Today she unites her north and her south in the kitchen, bringing diverse sides of the Croatian cuisine to a unique simmer. In addition to being a skilled amateur chef, Tanja is also an avid traveler, so her creations are often creative remakes of the traditional evergreens. Finally, Tanja is also a passionate food blogger and so well-versed in presenting food that you will not only be able to recreate these dishes at home but also to hold the main word at the table with stories to tell about them.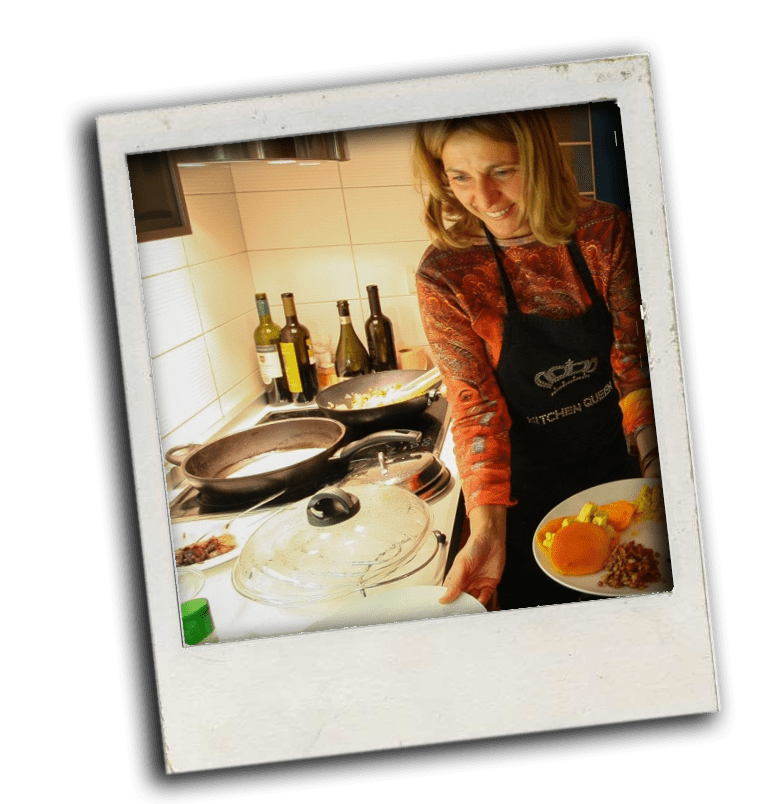 Stroll around Split's markets
Your Split cooking class starts in the very heart of the town– at the fish and green markets. Locals come there for their daily dose of nourishment and nurturing, so these meadows of colorful stalls truly pulse to the city's beat. With Tanja having sourced ingredients for your menu earlier, you will be able to take your time observing both the food and the people. You'll see what's in season, what's local and with Tanja by your side, you'll have a chance to chat with sellers.
A bite of the famous Croatian cheeses
On your way to Tanja's apartment, you'll also make a stop at Gligora cheese shop, the place of one of Croatia's most famous delicacies - sheep cheese of Pag Island.
Prepare Croatian specialties from the scratch
It's now time to start peeling, chopping, stirring and cooking. You'll prepare a lunch of three courses, which may include meat, fish or delish veggies – as you please, but can count on the menu being genuinely Croatian. Tanja likes to add a bit of a twist to the traditional, so think stuffed squids, prosciutto in red wine, risottos of all aromas and colors. You might even get a chance to try your hand at one of her all-time favorite desserts, the pasta cake from Ston. With chocolate, almonds, walnuts, a dash of lemon and sprinkle of cinnamon, it will show you a face of pasta you never dreamed of!
Experience local living in Split first-hand
As you delve into the fruits of your labor, enjoy Tanja's stories about local living, and toast to your new skills with a glass of local wine!
Not suitable for guests with mobility issues.
Only private tours on request. No group tours to join.
Images on this page are for illustration purposes only and the actual offer may differ.
Not all dietary preferences can be accommodated.
We'll Tell You a Secret!
Tanja's husband is the great local architect Neno Kezic, well-known for numerous projects around the region. One of them is Hotel Ambassador on Split waterfront, just refurbished!