The Home of Zinfandel
The lovers of Zinfandel will cherish this journey to its ancestral lands
Location: Split, Kaštela
Food theme: Wine Tasting
Duration: Half Day
Period: May to October
Children friendly: No
Max number of guests: Up to 10
INCLUDES: Wine Tasting, Private Transfer
Seven Kastela Towns
All lined up along the picturesque bay of Kastela, this continuous streak of seven villages, called Kastela, has really made the best of each of the different times it existed in. Inhabited since the prehistoric times, Kastela were once a Greek port, then a transit area for Roman veterans and place of leisure for Roman patricians, then a summer residence for Croatian kings, and as of recently, one of Croatian's Game of Thrones sets! But it is actually during the Turkish invasions that they got their current form - and name – 7 forts, each as a centrepiece of one Kastela village! With a population of almost 40,000 people, and a convenient location between Split and Trogir, Kastela are at the moment a piece of heaven for sun and sea lovers, steadily growing towards becoming the Zinfandel lover's homeport.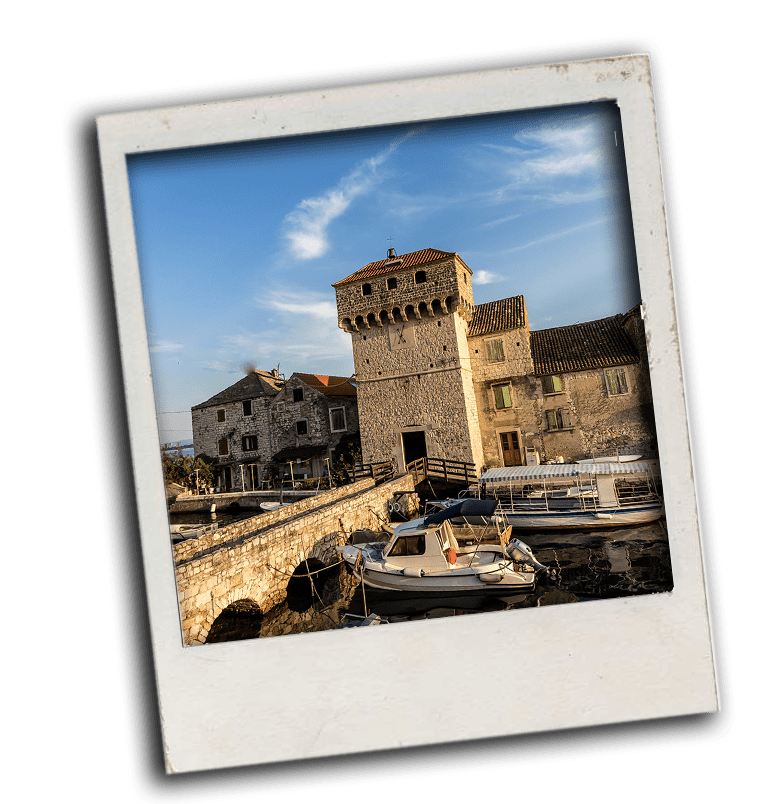 Zin is from Croatia!
Long believed to be an authentic American sort, after a recent DNA analysis, Zin was irrefutably related to its Croatian origins. More precisely, it was related to the Crljenak Kaštelanski grape, which is now undergoing somewhat of a renaissance thanks to his American relative!
A tour of a family-run winery Putalj
Putalj is a family-run winery, owned by family Kovač. Experience true Dalmatian hospitality while munching on local snacks like olive and olive oils and tasting the three wines produced at Putalj: Crljenak Kaštelanski (Zinfandel), Plavac mali and Maraština. Their vineyard is located at the same place where 1.000 years ago Croatian kings first gave permits for planting new vineyards!
A walk in the vineyards of Babe
Your next stop is Babe winery near Trogir. Stretch your legs walking around their vineyards, which boast spectacular panoramas of Čiovo Island and Marjan hill. Learn about the hard labor that goes into a bottle of wine, before tasting their Crljenak Kašelanski, Merlot, and Cuvee.
Only private tours on request. No group tours to join.
Images on this page are for illustration purposes only and the actual offer may differ.
Not all dietary preferences can be accommodated.
F&W pairing if you please!
To make this tour complete, a unique wine-paired lunch of local specialties can be organized at Babe cellar. Amazing views to accompany great food!