Wines of Pelješac
One of the Most Authentic Wine Experiences in the Region!
Location: Pelješac Peninsula
Food theme: Wine tour with traditional lunch
Duration: Full Day
Period: All Year Round
Children friendly: No
Max number of guests: Up to 50
INCLUDES: Lunch with Wine, Wine Tasting, Private Transfer
Mario!
One of the younger Croatian winemakers, and an incredibly personable one, Mario Bartulović might just be the best possible spokesman for getting you all enthralled with Pelješac and its traditions. Firmly convinced in the region's potential, Mario is one of those people who resorted back to the peninsula after living in Dubrovnik for a couple of years. He was missing exactly the aspects he will get you all excited about: organically grown food prepared by his mother and sister, peninsula's engaging nature, rewarding action around the vineyards and the ultimate magic of producing wines from grapes grown in 16 different Pelješac positions.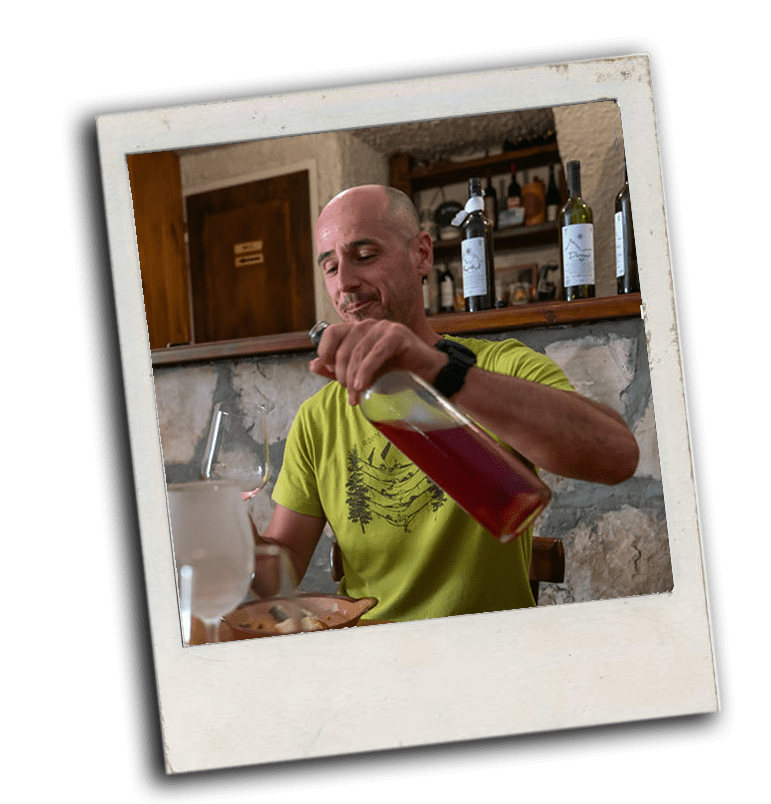 Experience Pelješac, Dubrovnik's wine empire
Secret Dalmatia's Pelješac Wine Tour takes you to the beautiful Pelješac peninsula, located 60 km north of Dubrovnik. This picturesque area is home to some of the most intriguing red wines in Croatia! Our private wine tour with expert guide/winemaker Mario Bartulović, includes a trio of wine-tasting opportunities at Croatia's most respected wine cellars, field visits to their vineyards on the slopes of the magnificent peninsula and a delicious Dalmatian lunch at the celebrated Bartulovic estate.
Visit the most famous wineries
At Miloš vinery, your first stop, experience the full potential of Plavac Mali grapes, from rosé and Plavac to sweet and semi-sweet wines, all produced in an entirely natural way. Mike Grgich, of the famed Grgich Hills in Napa, resorted back to his Pelješac roots in the late 1990's, opening his Croatian cellar which you will visit next. Here, taste the wines created by the man who comprehended these grapes on a level where he could sense a familial relationship between Plavac Mali and Zinfandel (they both originate from Crljenak Kaštelanski grapes)!
The glorious vineyards of Dingač
Travelling around the peninsula, visit Dingač, internationally acclaimed wine-growing position on the southern side of Pelješac, known for its laborious, steep slopes, generous sunshine and winds, and also breathtakingly inspiring views of the vineyards and the Adriatic.
A homemade lunch at Mario's home
Finally, wrap up your day with a homemade lunch and some true traditional Pelješac wines at the 500 years old wine cellar of Mario Bartulovic, enjoying the company of your energetic host and his fascinating stories of the peninsula and its wine traditions!
Only private tours on request. No group tours to join.
Images on this page are for illustration purposes only and the actual offer may differ.
Not all dietary preferences can be accommodated.
Wanna Be More Active?
Wine tour of Peljesac can aslo be offered as a bike n' wine tour. With less wine while cycling, of course! This tour includes some wonderful, off the beaten path vineyards!