In the Hillside of Dubrovnik
Roll up your sleeves alongside the three generations of a local family!
Location: Dubrovnik
Food theme: Traditional Cooking Class
Duration: Half Day
Period: All Year Round
Children friendly: Yes
Max number of guests: 10
INCLUDES: Private Transfer, Cooking Class, Lunch with Wine
Mujo Family
In Konavle, the land does not belong to the people, it is the other way around: the people belong to the land. "The undivided house", as the custom is called, is the reason that sons always stayed on family estates, bringing their families to share the household of their parents. Your hosts, the family Mujo, still nurture a traditional lifestyle and three generations of their family, 18 members all together, reside on the same plot of land. Their estate ascends from the low-lying fields to the top of Konavle hills – once providing diversity of ingredients and today stunning vistas of the green Konavle valley.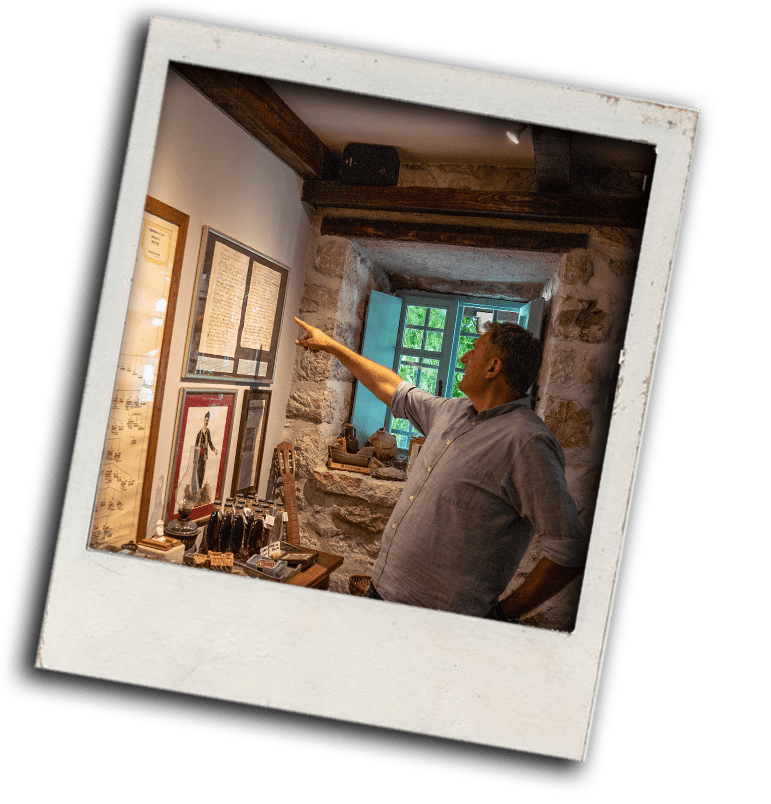 Explore Dubrovnik beyond the Old Town
A 40-minute drive from the bustling Old Town, right by the border with Montenegro, the lush and green Konavle valley preserves its traditional values quietly but insistently. In the village of Lovorno, high up on the slopes, admire the views of the valley as your hosts, the family Mujo, welcome you to their home.
Spend a day with a local family
You will meet three generations of the family Mujo, who live in a common household. Partake in their typical day, picking veggies from the gardens, eggs from the henhouse and deciphering many fruits and herbs that grow around the property.
Cook around a traditional fireplace
The traditional kitchen with an open fireplace was entirely renovated by the sons themselves. As you chop, stir and bake, enjoy pops of insight into this family's life, as well as learning small tricks of the local cuisine.
Toast with family's wine and liquors
Savor the fruits of your labor in a relaxed lunch complete with the family's wine, homemade juices, and liquors made of loquat and walnuts.
Private tours only. Guests outside your group cannot join the tour.
Images on this page are illustrative and the actual offer at the venue might differ.
Not all dietary preferences might be accommodated.
Farm to table
'Farm-to-table' is literally within view here! Veggie gardens and herb bushes surround the house, and the henhouse sits amidst a fruit orchard. You might have to walk over to the neighbors house, as that's where the goats hang out!