Tastes of Brac
To truly understand the beauty of the famous stone of Brač, taste its fruits: olive oils and wines.
Location: Brač
Food theme: Wine and olive oil tasting with traditional lunch
Duration: Full Day
Period: All Year Roud
Children friendly: Yes
Max number of guests: 8
INCLUDES: Private Transfers, Olive Oil and Wine Tasting, Traditional Lunch
Dol
Some 2 kilometers away from the shores of Brač, the rustic village of Dol sits surrounded in barren karst. Today, it is proudly called an eco and ethno village, but just decades ago, Dol almost disappeared. Its inhabitants kept moving closer to the coast in a quest for an easier livelihood. But then, the village's remaining 130 resilient residents got together, and in a showcase of concentrated effort, rebuilt and reinvented their village. Today, Dol is a wonderful example of the traditional stone architecture and Brač island traditions. You have to enjoy it all by day, though, as you cannot stay overnight – not one person rents accommodation.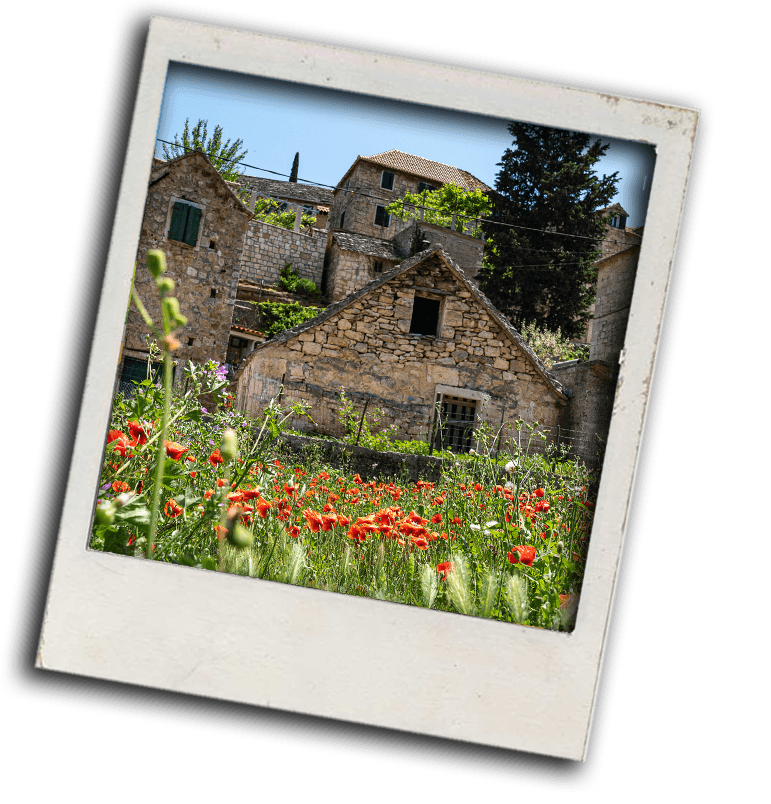 The fruits of barren rock
When a conversation about Brač sparks up, people are most likely to talk about its famous white stone gracing palaces like Diocletian's in Split or the White House in Washington DC. But to truly understand this unique island and the magnificent strength encapsulated in its rocks, admire the stone, but taste its wines and olive oils.
A family-run eco-winery at Franulić
Drive out to Nerežišća to visit the Franulić family winery, set in a traditional rural property. Surrounded in a string of petite stone houses, the cozy green garden, and the vaulted porch make for a perfect setting to try the family's Plavac mali red wine. Look for the splash of sunshine in each sip of this eco-produced wine made from the vines from the south-facing vineyards.
An old olive oil mill at the oldest village
In Škrip, the oldest settlement on Brač, visit the Museum of olive oil, set in a former olive oil mill. Established in 1864, it stopped working in the 1960s, when the modernized processing took over. Hence, you will see an authentic old-school setup of historic olive mills, as well as taste local varieties of olive oil.
Traditional lunch in Dol
Your final stop is the village of Dol, today considered a true eco-ethno village, showcasing authentic Brač architecture. Enjoy a traditional lunch of lamb and an experience of 'farm-to-table' entirely within our reach.
There might be other guests at the venues.
Only private tours on request. No group tours to join.
Images on this page are for illustration purposes only and the actual offer may differ.
Not all dietary preferences can be accommodated.
Dormice, anyone?
Roman Emperors loved having dormice for an appetizer! But today, the unique tradition of eating dormouse (puh in Croatian) exists only in Rijeka and on Hvar. Wanna try?